"I have always looked upon decay as being just as wonderful and rich an expression of life as growth."--Henry Miller
Stepping carefully around the old theater, I breathed in the smell of decay. The dusty smell of a building that is dying a slow painful death at the hands of nature and neglect. A building that, like a very old person, slowly marches to the end, inching closer with each turn of the Earth.
Is it trespassing if no one cares you're there? Is it wrong to wander through a door created by crumbling bricks and a wayward tree? The curious part of me can't help but jump through the hole in the wall, a bit like Alice stepping through the looking glass, expecting a surprise on the other side. And, oh, the surprises. Urban decay does not disappoint. Remnants of colorful facades, bright graffiti and a raggedy screen hanging above the stage. And behind the screen rows of old chairs. My heart leapt. My eyes flickered over the possibilities, scanning for natural light and composing shots. Snap. Snap. Snap. There may have been a squeal.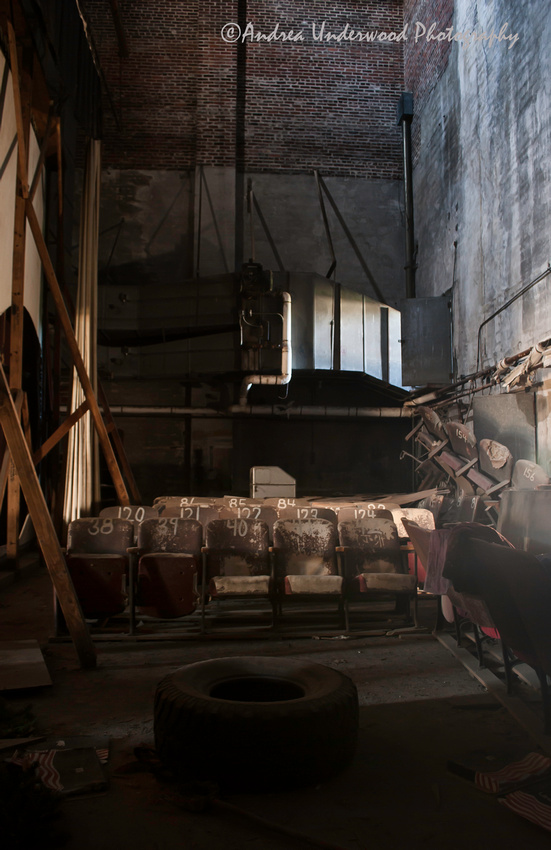 My brain rolled through the past decades, imagining the history of those seats. Knowing that the theater originated in 1910, the possibilities seemed endless. People discovering the wonder of the first movies. Young men sliding their arm around a date. Teenagers necking on the back row. Does anyone say "necking" anymore? Kids riding the range with Roy and Dale. Adults following the happenings on far away shores during World Wars in MovieTone shorts, and hippies riding high with Easy Rider. Imaginary images clicking through my head like pages flipping in a book.
Who sat there? What happened to those people? What stories do those seats hold? Truth, as they say, is always stranger than fiction, so the tales they could tell are likely more incredible than I can imagine. But, oh, what fun to imagine. And how sad that those memories will fade as those seats rot.