Just how close did we get to the Pope while we were in Rome? Closer than we ever imagined.
We requested tickets for his Wednesday General Audience through Santa Susanna Church, a beautiful church that serves as the official American Catholic Church in Rome. The tickets are free, but in high demand right now because of the popularity of Pope Francis. There was no guarantee we would get them even though the odds were in our favor.
We received an email while we were in Florence alerting us that we had indeed gotten tickets and that we could pick them up at Santa Susanna between 5 and 6:30pm the night before the Audience. And by the way, the email also warned us not to knock on the door and disturb the nuns if we arrived after 6:30pm. We made sure to get there before 6:30pm.
The morning of the audience, we arrived at St. Peter's Square at 7:30am, three hours prior to the start of the event as recommended by the folks at Santa Susanna. There were already several thousand people gathered, waiting for the security detail to open the gates. Not sure where to enter because of the crowd, we followed an American tour group that had an English speaking guide who seemed to know where she was going. We ended up very close to one of the entrances. Even a blind squirrel finds an acorn I suppose.
The event involves festival seating, and people are anxious to snag good seats. I had been advised by a coworker who had been to the Audience just a month before to seek out a seat near a rail. So we did. When we all started filing through security, there was a rush by many to get to the front seats. Nicole and I headed toward the center aisle instead and grabbed spots along the rail. And began to wait. We are not catholic, but we wanted to attend because it seemed like a once in a lifetime opportunity to witness an exciting spiritual event. Besides, it's the Pope!
People from all over the world were there. They came with signs and banners and enthusiasm.
Most of the people around us were from South America, so you can imagine how excited they were. If you look closely in this picture, you can see that the gentleman on the left has a Chilean flag velcroed onto his forehead. Yes, VELCROED.
This little girl brought a picture that she made for the Pope, hoping to give it to him. I'll pause while you wipe away a tear.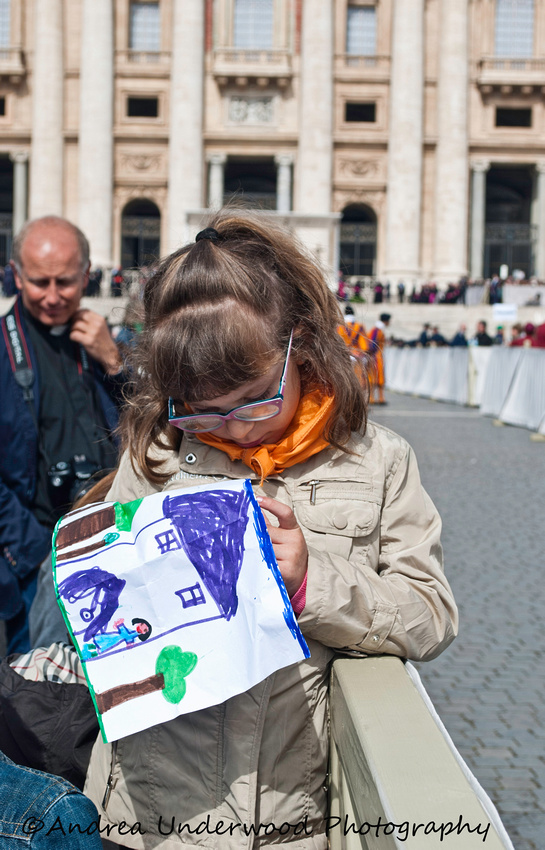 The pomp and circumstance began before the Pope arrived, with lots of security and music.
They also spent a fair amount of time announcing all of the visiting parishes who are there from around the world. Each group cheered as its name was read.
Close to the starting time, as they were still reading names, we heard a loud roar from the rear of the crowd, and when we looked at the jumbo video screens we could see that Pope Francis had arrived and had started circling the masses in the Pope Mobile. Because of the crowd, it was hard to tell where he was headed, but about ten minutes into his jaunt we heard the cheers grow louder in waves that came closer to us. We figured he was close, and he was. He went zipping down an aisle nearby, and we caught a good glimpse of him from the side.
I started watching the Swiss Guard and the rest of his security detail in our vicinity, and when they started dashing around us I figured Pope Francis was coming our way again. He did. This time, right up the center aisle, immediately in front of us, waving and smiling at the crowd. We were waving and shouting like it was the kickoff of the Super Bowl. The cheers were so loud; you couldn't hear anything but the roar. He was close, so close that had he leaned down and had we reached up even farther than we were already waving, we could have touched his hand. I started snapping pictures and didn't stop until he was right in front of me. I forced myself to look away from the lens because I didn't want to be so caught up in taking pictures that I failed to experience that incredible moment.
By the way, that's my big hand in the picture, waving like a maniac. When he was gone, Nicole and I looked at each other, and I said, "Can you believe that?!" We watched him on the video screens for several more minutes and then saw the Swiss Guard in front of us start running into place again. I shouted to Nicole, "I think he's coming by again!" And sure enough, he did. A second pass, right in front of us, waving and looking right at us again. We looked him right in the face for a second time, and waved and cheered. He has such a friendly smile.
He rode up the center aisle to the staging area in front of St. Peter's Basilica and got into place for the start of the service.
We took our seats like everyone else, and for the next hour listened to words spoken in a mixture of languages, little of which we understood, but it really didn't matter. It was a wonderful experience being in the midst of thousands of joyful people, all rejoicing and worshipping at the same time. I felt good from the top of my head to the tip of my toes. Downright giddy even. What an uplifting thing to be in the midst of so many happy people. How often does that happen in this crazy world these days? Not much.
After it ended, we headed to the Vatican Museum with growling stomachs, full bladders and sleepy eyes from our early alarm, but we were smiling from ear to ear. We had taken this trip, hoping for once in a lifetime experiences and that's exactly what we got that day. It still makes me smile to think about it.