Venice is wet when the sun shines, but it's even wetter when it rains. When we arrived there, a storm was whipping up, and we were soaked to the skin by the time we walked our luggage from the airport to the water bus and from the San Marco pier across St. Mark's Square to our hotel. The whipping wind and heavy rain made for a soggy trek. Umbrellas and ponchos were useless. However, it wasn't nearly as bad for us as it was for the folks who arrived about three hours after we did. St. Mark's Square flooded, which is not exactly unusual, but it meant that an area that was dry for us was not for others, and dragging their suitcases through water was no fun.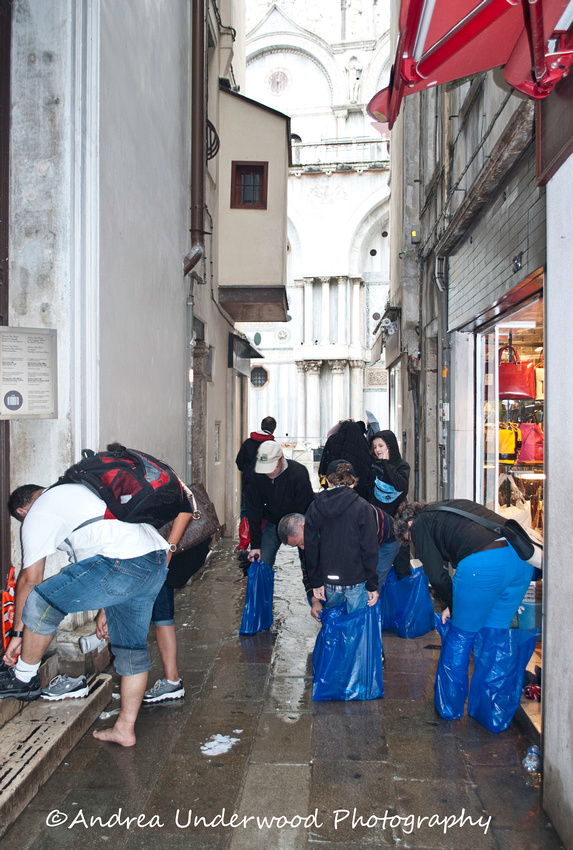 It also put a damper on the normally lively nightlife in the St. Mark's Square area.
By morning, however, the water had gone down, and while it wasn't sunny, it was fairly dry. We spent the day visiting the main sites, including Doge's Palace and St. Mark's Basilica (incredible), and the islands around Venice. The bottom of our pants were wet the whole time we stayed in Venice, but it was hard to be upset about it, given the incredible things we saw.